Miley Cyrus; August 31 2013
Hannah Montana. The household name in which my generation grew up on! Miley Cyrus quickly rose to fame and became the subject of admiration to millions of mindless teenyboppers across the world; including me. It wasn't long until the name usually associated with morally catchy lyrics ("nobody's perfect" yadaydayada) and mouse ears soon became tarnished and butchered to a point where "Miley Cyrus" makes me unintentionally cringe into the "Jenna Marbles Face."
It's like this chick just get progressively appalling! I actually quite liked her "punk-esque" haircut at first. I acknowledged that every star grows up and while even at that point Miley Cyrus hadn't grown up as elegantly as many of us expected she would back in 2008, I thought that it was a very couture look that Miley Cyrus would be able to play off of. She stated that she "had never felt more like herself" back when she shocked fans with her dramatic cut and I still admired that "fuck everyone, I'm living life for me" attitude! That haircut saved time, and styling frenzies and it opened the door to a whole new world of couture. With that cut, she was able to wear one of a kind designs and portray a persona that not many woman would be able to do. She became edgier, bolder, and well... scary in the best way possible. The theme for the MET ball this year was punk rock. Miley Cyrus' outfit was quite horrific to your average consumer but in my opinion was able to capture the theme better than anyone else, and believe it or not, critics agreed! The MET ball is able being couture, and completely out there with the theme, it's the time where you could be daring and spontaneous and just not give a fuck. That being said, the best dressed went to those who were able to "play" off the theme's colour palette of black, deep purples, and white, but none were able to REALLY be punk rock and pull it off like Miley. There was Madonna, who made me run the other direction as I thought she just flat out looked like a crazy hooker who's gonna whip my ass for not courting her.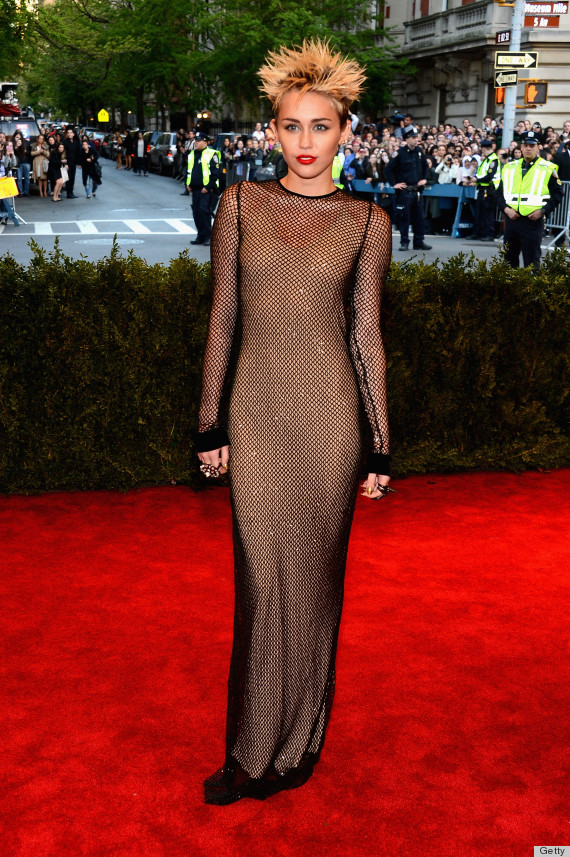 Miley Cyrus MET Gala 2013
But then, came the VMAs which scared me and millions of people across the face of the Earth. I think even my dog was horrified. No like literally. He ran the fuck under the blankets, and I followed! I sure hope that poor foam finger was annihilated... with fire and it's ashes stored away to a dark dark place where no living organism in the world is able to come in contact with it. I mean seriously I was so uncomfortable the whole time. The only praise Miley Cyrus could have possibly gotten out of that would have been that her body was smokin! She was pitchy, she was trashy, she was just bad, bad bad!
Now her street style? Like c'mon! The point in your short hair is so that you save time not wasting time putting cinnabons on your hair! Your hair looks like bee antennas. That crop top makes your boobs like weird, you look like you stole my father's kitchen slippers, and broke into a poorly dressed 14-year-old gym looker and stole his track pants.
One thing I must mention though, is that Miley continuous to be an artist who publicly displays her partying ways and honest opinions, and because of this I do not see an Amanda Bynes, or Lindsay Lohan future for her. Say what you will about her (and I very much will), but she is a very hard working girl and has gradually become this. The trend between Bynes and Lohan is that their troubles seemed very much like a breakout and had simply continued to stick, Miley does not fall accordingly to these statistics.
Nonetheless, Miley Cyrus has somehow turned into a classy and respectable public figure to white trash with a crap ton of money.
xxx Jenny